Product Spec
SCALE

1/48 Scale

MODEL

Plastic Model Kit
(including 2-color molded parts, clear and grey)

PARTS

Total Parts: 390

Release

June 10th, 2017

Price

8250 JPY (tax included)

Base price (before tax/fees): 7500 JPY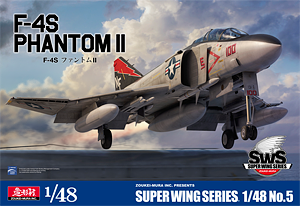 Order via Japan
(in Japanese Yen)
Order via Volks USA
(in US Dollars)
---
Download the manual
1/48 F-4S Phantom Ⅱ
Instruction Manual
---
---
THE ULTIMATE F-4S!!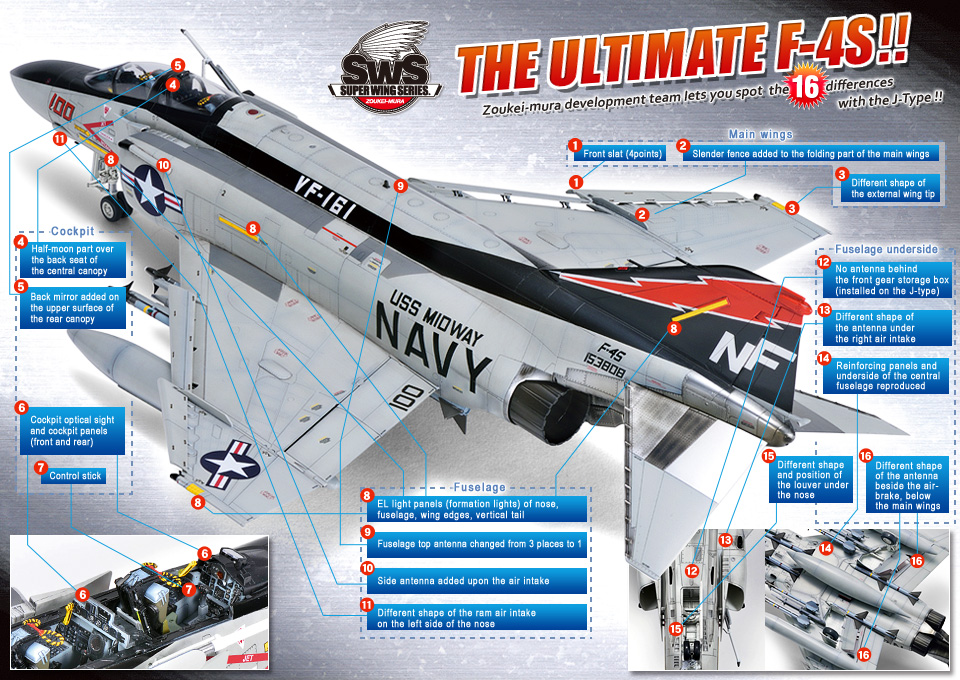 → Click to zoom
Zoukei-mura development team lets you spot the 16 differences with the J-Type !!
●Main wings

1. Front slat (4 points)
2. Slender fence added to the folding part of the main wings
3. Different shape of the external wing tip

●Cockpit

4. Half-moon part over the back seat of the central canopy
5. Back mirror added on the upper surface of the rear canopy
6. Cockpit optical sight and cockpit panels (front and rear)
7. Control stick

●Fuselage

8. EL light panels (formation lights) of nose, fuselage, wing edges, vertical tail
9. Fuselage top antenna changed from 3 places to 1
10. Side antenna added upon the air intake
11. Different shape of the ram air intake on the left side of the nose

●Fuselage underside

12. No antenna behind the front gear storage box (installed on the J-type)
13. Different shape of the antenna under the right air intake
14. Reinforcing panels and underside of the central fuselage reproduced
15. Different shape and position of the louver under the nose
16. Different shape of the antenna beside the airbrake, below the main wings
Zoukei-mura 1/48 F-4S Instruction Manual Rectification
Zoukei-mura 1/48 F-4S Instruction Manual has a mistake at page 12, paragraph 014.
We'd apologize and amend this mistake to each one of you, but we must ask you to download this PDF with the correct information.
Download the instruction manual 1/48 F-4S Phantom Ⅱ (page 12-13) from here
Instruction Manual 1/48 F-4S Phantom Ⅱ (All page) download page here →
We'll do our best to make sure this kind of problem doesn't happen again.
Please continue to support Zoukei-mura SWS Our deepest and heartfelt apologies.
Zoukei-mura SWS Development Team