Product Spec
SCALE

1/72 Scale & 1/144 Scale

MODEL

Plastic Model Kit
(including 2-color molded parts, clear and grey)

PARTS

Total Parts:
82 (1/72) , 18 (1/144)

Release

July 20, 2019

Price

4290 JPY (tax included)

Base price (before tax/fees): 3900 JPY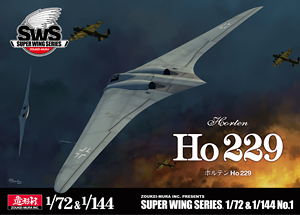 Order via Japan
(in Japanese Yen)
Order via Volks USA
(in US Dollars)
---
Download the manual
1/72 scale & 1/144 scale Ho 229
Instruction Manual
---
Ho 229 1/72&1/144 SET!
SETTING A NEW STANDARD FOR 1/72 SCALE!
SWS QUALITY IN A PALM-SIZED MODEL! SMALL YET REALISTIC!
Pushing the limits of 1/72 scale!
Recreate the "Mysterious Bird" Horten with dense mechanical detail exceeding expectations of small-scale models!
THE 4 MAIN POINTS OF 1/72&1/144 Ho 229
1. This SWS kit builds two models in 1/72 and 1/144 scales based on the unfinished "Ho IX V3" prototype, recreating what a finished Ho 229 might have been like if used in actual combat. Don't miss this brand-new type of SWS kit, bringing you the next level of entertainment from learning through building, the true goal of scale models.
2. Utilizing our experience and knowledge from developing the 1/32 and 1/48 kits, we successfully created a 1/72 scale model comparable to the larger sizes. The genius Horten brothers' design philosophy is replicated in a level of detail that defies all expectations of small-scale models. Go ahead and start with 1/72 scale to experience the fascination of SWS kits.
3. The 1/144 scale model's assembly was made to be simple and quick, so that anyone can enjoy building it and learning from the accurate form based on thorough investigation of the actual aircraft and deep archival research. From 1/32 scale to 1/144 scale, experience the joy of collecting "the Luftwaffe's mysterious wing" as SWS kits.
4. The Ho 229 was developed in the final stages of the war in hopes that it would be the key to revival from the brink of defeat. The abundance of prototypes is part of what makes the Ho 229 a fascinating subject. RLM76 Light Blue was chosen to color the 1/72 scale version as a night fighter. For the 1/144 version, the standard camouflage was chosen for a fighter-bomber. With this kit you can enjoy both at once.
Photo Gallery