Update: December 11th, 2017
Here in Kyoto the temperature is around 2 or 3degrees in the morning, beautiful red leaves are coloring the mountains; final, beautiful days of this year.
How's fall where you live?
Fall 2017. Our best members went to Scale ModelWorld this year too.
This time I'll show you plenty of pictures taken on the way and at Zoukei-mura booth during the event.
Please enjoy this long autumn night reading this blog, hopefully feeling like you were there with us.
▋Now! Scale ModelWorld 2017 is finally about to start!
Setup day before the opening and, as you see, the venue is still desert and it seems like you can hear some dry sounds here and there. But anxiety is soon replaced with expectations, so it still feels good.
▋Ooooh here it is! See the tables of Zoukei-mura booth. Splendid!
Looks like our staff arrived safely. The Development Team is already at work. Master Kobayashi, K and T, are all busy unpacking, and they're starting to assemble the display models. By the way, how's the jet lag?
▋This time, the main attractions at Zoukei-mura booth are 1/32 Do 335 A-12, 1/48 F-4S, C, all the related extra parts and diorama bases, and The Old Man's Tools. This is the booth before the opening. Plenty of products, all the way from Japan. We hope they will sell very well.
▋Hey, he's Bentley-san, isn't he?
And he brought his new book about Do 335 to our booth!
Thank you very much. This new work with its fantastic contents is now on my desk and I really enjoy reading again and again.
He went so deep studying Do 335. Dear fans, this book with its rich contents will be also available at VOLKS so look forward to it.
▋The sun arose, and the opening day has finally come for Scale ModelWorld!
Ooooh, there's already a long line before the opening! And this year too, it's mostly old dudes!
See Zoukei-mura staff, heading to the booth, full of expectations!
The pile of products is still covered before opening, but we can already see some enthusiastic modelers!! This is a good auspicious.
▋Quietly and quietly, Zoukei-mura booth open!?
The moment it happened, our staff got so busy with such rush of people they had no time even for a sip of water!! Exactly. A long, long queue of modelers even here in Telford! It seems like you can hear the shouts of joy.
▋Ooooh, great!.....that's good!!
Look! I see SWS brothers here and there, from all UK and Europe, after waiting so long for this day. Welcome to Zoukei-mura booth!
Everybody is already in "event-mode". We still have plenty of Do 335 and F-4.
▋Say whaaat!! Suddenly F-4C......!! Oooh!!
Just opened and already sold out! Sorry for those who couldn't get it!
Oops, only three pieces left for the 1/32 Do 335 A-12! And we had so many pieces piled up..... We're really sorry for all those who missed it!
This is the sad part of being a small manufacturer that can't produce huge quantities. I beg your pardon.
I hope our SWS Friend Shops spread across the globe still have some pieces left. Maybe you're still on time! I recommend you to inquire at your closest Friend Shop as soon as possible.
Unfortuntely, Zoukei-mura F-4J and Do 335 A-12 sold out.
Other SWS kits also sold out and others may sell out soon. Get yours now!!
▋Look at the pictures of our SWS brothers, happy with their SWS kit in their hands. Being able to deliver the SWS kits to all of you is the greatest joy for us. I don't know how to express this feeling, it's something close to friendship. Enjoy this fantastic world, made by this magic material, piece by piece. And look forward to next year, as you could be one of the people in the pictures of this blog.
▋Happy modelers' faces coming on and on!!
Some brothers also gave us confectioneries and whiskey!
Thank you!! I can feel all your expectations so strong.
It's like I can hear you saying "Zoukei-mura! We want something better and better". We'll do our best!!
▋Thank you, thank you!
While doing this and that all the kits and extra parts piled up on the table of our booth got fewer.
"There is no more ****!?" I can hear that voice. That's the saddest thing to hear for us. For next year, I recommend you to reserve your kit in advance through our website.
▋We sold out almost all the products that we brought!
Thank you so much to all the modelers of UK and Europe!
It's so nice to receive such a strong support for Zoukei-mura and SWS kits. I'm sure that you guys who could buy your SWS kits are already having fun checking parts, instructions and decals. Next kits will amaze you more and more. Please look forward to that day.
▋This time too, the performance of our famous SWS Master "Naoki Kobayashi" has been a big success!
Use and maintenance of the Old Man's Seven Tools, a friendly and detailed explanation for all the participants.
And his performance was all in Japanese! In spite of that, the attendance was good. Knowledge can be well transmitted, regardless of the language.
The tools we brought almost sold out. Thank you very much!
▋OK, guys!!! Let's go for the infamous Zoukei-mura raffle this time too!
See the excitement and the happiness on all their faces!
May they win or not, many people came to join what has become an established event of Scale ModelWorld. From T-shirts to the luxurious SWS kits, anything you won?
Next time you'll be lucky too and surely an SWS kit will be in your hands.
▋From Switzerland! Isn't he Mr. Poncini!
We also met at the IPMS USA Nationals in Omaha.
Thank you so much for coming to Zoukei-mura booth here in Telford. Lovely, smiley face.
▋This, this! This is an SWS Ho 229 that won a hobby contest in his home country! Zoukei-mura staff was also speechless at the sight of this awesome work. Unfortunately we, the Japanese staff from Zoukei-mura couldn't get the details because of our poor language ability, but we really appreciated this man who came just to show us his great work. Thank you!! You did a very good job!
---
2017 Fall
- Scale ModelWorld Venue - Contest Hall
Let's take a look at the venue where Scale ModelWorld takes place. As usual, eyes are caught by the displays of modeling clubs and modelers with their works. Absolutely, these hard-worked models and the splendid booths are worth looking!!
Zoukei-mura staff found a bit of time to get out of their busy-as hell booth and take some pictures of the contest area and the rest of the venue. We have several hundreds of pictures. I'm going to introduce you only some of them this time, even though I want to show you all. These finished models gathered in this giant venue will strain your eyes!!
▋One good thing, among the others, of Scale ModelWorld is a typical local dinner. This time again, I was not there and they ate and drank as much as they could; well done! They stayed 3 days in the UK, including the setup day. In that short time they took so many pictures like these that it seems they were just eating and walking. (I wanna go too!!)

But thanks to everyone, we could deliver loads of SWS kits and other products to you. Good job Zoukei-mura staff, and thank you!

Aww I also want to drink at the pub with the other modelers.
▋Dear SWS brothers who came to meet us this year too, the show is over.
Thanks to you, this is what Zoukei-Mura booth looked like. Brilliantly, almost everything sold out and all that remains is only tools and boxes for packing and transportation.
Thank you so much to all of you who purchased our products!
All the questionnaires and the precious opinions that we collected will be taken in consideration for the next developments.
I hope we'll meet some day at Zoukei-mura booth, even you who couldn't come this time.
---
We went this far!
SWS 1/32 Imperial Army Twin-seat Fighter Ki-45 Toryu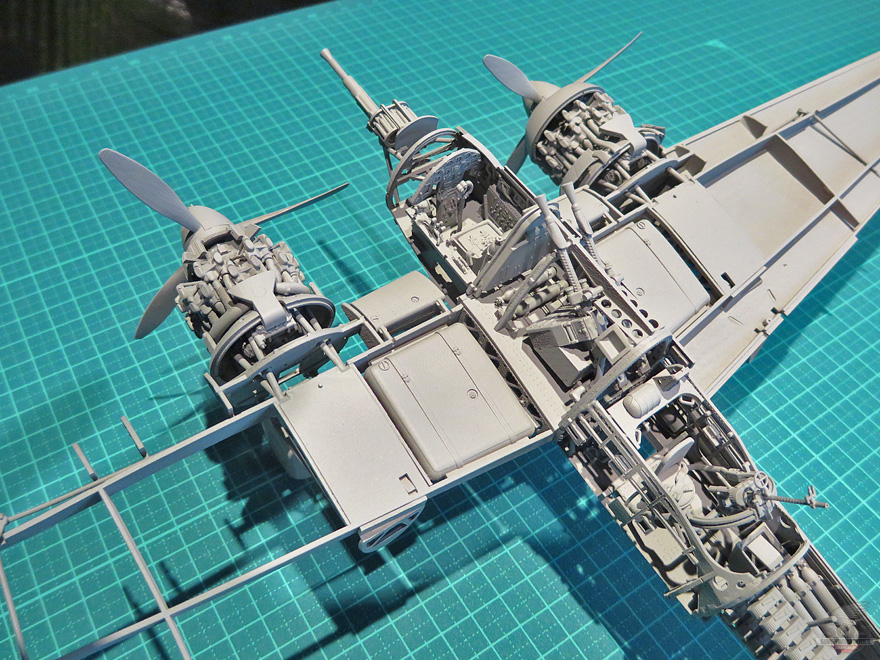 ---
Some presents for me! I'm so grateful.
▋So many presents, this time too!
Thank you very much. We all enjoyed these presents.

Up on the left, whiskey from Mr. James Goddard. Up on the right, liquor and chocolate by Piotr-san from Master Model! Down on the left cookies form Mr. Bob Brown.
And down on the right a rare alcoholic drink from called apple cider from Radu-san. I enjoyed everything with my wife while looking at the pictures of the event!
---
Well well, how was Zoukei-mura's Scale ModelWorld 2017 Report?
Thanks to you all, we sold out almost every SWS kit, Concept Note, Tool and extra parts, and this makes us very proud.
On behalf of all the Zoukei-mura member,
Thank you, from the bottom of our heart!!!
Our team will do her best every day so that next year you'll be even more impressed.
Unfortunately, Zoukei-mura can produce its kits only in a small quantity, so it will be
still hard to get them, but we hope you will enjoy Zoukei-mura and SWS kits anyway.
See you next time on the pages of this blog!!
Dear SWS Brothers of the world, take care!!!
Bye!
Hideyuki Shigeta
President, Zoukei-Mura
---