Up date:September 21st, 2018
Hello, my SWS Brothers!

Lately it's been rainy and gloomy every day. The autumnal rain front, a large low pressure system, always comes to Japan at the beginning of autumn, causing daily rainfall. 

And last week, for the first time in decades, a huge typhoon (Typhoon Jebi, No. 21) directly hit Kyoto city as it passed over to the Sea of Japan. ,
It was an incredibly strong typhoon, with wind speeds over 50m/s (112mph).
As a result, the Volks main building, which houses the headquarters of Zoukei-Mura, suffered serious damage.
The powerful gale winds tore the iron wall coverings off of the rooftop of the 7-story building and blew them dozens of meters away, spreading them all over.
Over a dozen iron coverings, each measuring multiple meters long and one meter wide, were broken off, hitting the street below and buildings nearby.
(I am so sorry to the owners of the cars and nearby buildings that were accidentally damaged.)
The falling debris caused damage to cars driving on the street below and to nearby buildings, but thankfully no one was injured. Even in such an unfortunate situation, that was a true blessing.

The typhoon also brought other sadness.
The gale winds caused terrible damage to the doll museum building and traditional Japanese house and garden at "Tenshi-no-Sato", the birthplace of our Volks Group original dolls.
Much to our dismay, the traditional thatched roof built over 100 years ago was ripped apart, leaving it a mere shadow of its former appearance.
In addition, winds blew rain into the traditionally-constructed Japanese tearoom, the main hall, and throughout the entire building. The majority of the beautifully elegant glass windows, crafted in the 1920s, were shattered. Those windows were made out of precious antique glass that cannot be replaced anymore.
The Japanese garden, which we were so proud of, and which offered peaceful comfort to many visitors, was also affected. Many of the trees and plants were badly damaged, and half of the outer wall that surrounded the garden was completely blown off. 

My home, which is in the suburbs of Kyoto, was also not left without damage. The once-relaxed peacefulness of the space became but a faint memory of the past. My beloved pet dogs Lucky and Taro were sent into a terrified frenzy by the thunder and gale winds.

In addition, the Kansai International Airport, the gateway to the Kansai region of Japan, was completely flooded with seawater, from the runways to the passenger terminal, making take-off and landing impossible. The only bridge connecting the man-made island on which the airport is built on and the mainland was struck by a fuel tanker swept by the gale winds, leaving some 8,000 travelers stranded on the island without electricity or running water.
(After a few days they were all safely rescued.)
Unfortunately, flights continue to be cancelled to and from the Kansai Airport due to the seawater flooding.

Osaka city and Kobe city also suffered serious damage from strong gale winds.
Despite the clear weather after the typhoon had passed, for the next few days JR Shinkansen and train lines were stopped, and highways were closed off. And for some reason, many private cars that were parked on the wharf caught on fire. The majority of them were reduced to ashes.
Many of the port facilities which act as the major hub of goods distribution for the whole of western Japan are still in the midst of recovery efforts.

Then, without a moment to spare to mourn the damage from the typhoon, a huge magnitude 7 earthquake hit Hokkaido. My word... Although it may have been true since ancient times, Japan is truly a country fraught with natural disasters. I would like to express my deepest condolences and heartfelt wishes for all who suffered from these disasters.
I truly hope that everyone can return to their normal daily life as soon as possible.

I was planning to write this blog mainly about all the fun we had at IPMS Phoenix, showing the Zoukei-Mura booth, the convention space, and the SWS kits that were highly popular during the show.

Yet it somehow became a report on natural disasters, which just keep occurring again and again. My SWS Brothers, please be careful and diligent in preparing for natural disasters.

And please rest assured that here at Zoukei-Mura, we will fully recover from the damage caused by the recent typhoon on our own, no matter how many years it takes, no matter how much damage there may be.

---
Hello Everyone at IPMS Pheonix!!
---
Toryu Arrives at IPMS Telford!!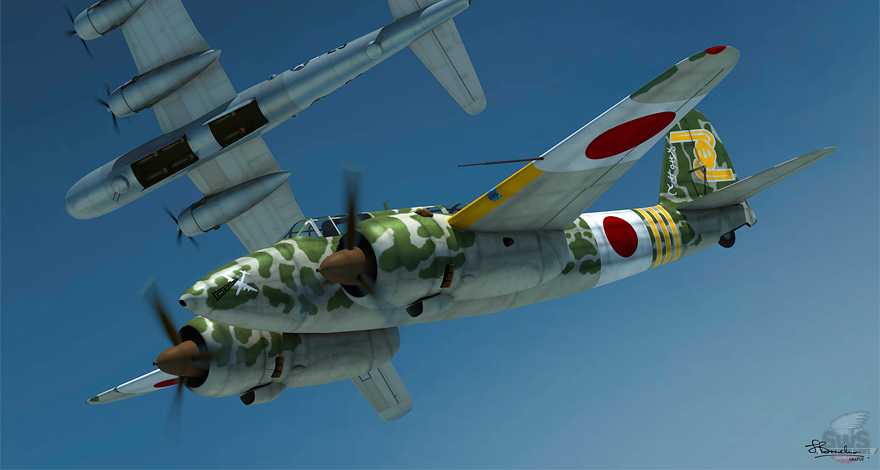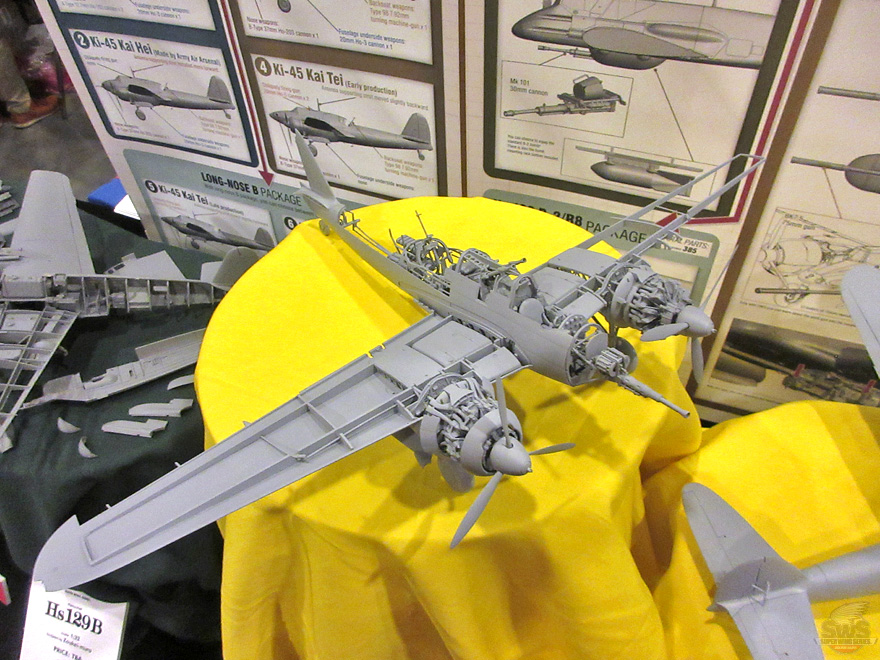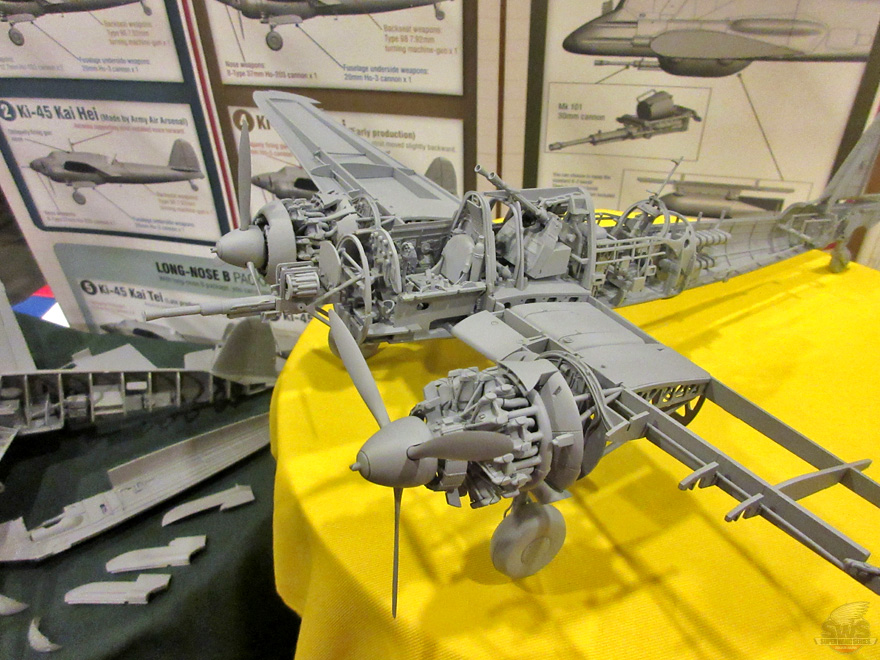 You read that right!! It's hard to believe...
the SWS 32 Toryu (Ki-45), released at IPMS Telford?!

And as an aside...
This November, I will be heading to Telford to participate in the show for the first time in years!!
I will whip my old bones into shape and travel all the way to the far-off United Kingdom, just to deliver this kit to you!!!

The early release of the SWS Ki-45 Toryu is not yet completely certain, but it looks like we will be able to release a limited number of kits at the Zoukei-Mura booth in Telford, as long nothing unexpected stands in our way!
To everyone who already saw a preview of the fine finished product at the IPMS Pheonix convention: you can at last add this kit to your collection!!

However, please understand...

We won't be able have the instruction manual professionally printed in time for the convention, so we will have no choice but to sell the kits with a manual printed by us at Zoukei-Mura included.
(But don' worry. Although the printing method may be different, the content of the manual will be the same as the one included in the normal kits.)

Be one of the first in the world to get their hands on the newest kit, Ki-45 Toryu!!
The kits will be sold on a first-come, first-served basis, limited to one kit per customer.
To secure your kit now, please make a reservation, sent to the email address below.
(We will only bring a very limited number, so please refrain from cancelling on the day of the convention.)

Also, please forgive us if for some reason we are unable to sell the kits at the convention.

We plan to sell the Toryu Ki-45 kits worldwide starting around the end of December 2018.

Make your reservation here for buying the Toryu kit at the convention in Telford.

IPMS Telford 2018 Kit Reservations

Product Name
Event Price
SWS 1/32 Kawasaki Ki-45 Kai Tei Type 2 Two-Seat Fighter "Toryu"
£110

*Only reservations for the 1/32 Toryu kit will be accepted.
*Limited to one kit per person.
---
How to Reserve an SWS 1/32 Toryu Kit at IPMS Telford 2018
How to Reserve an SWS 1/32 Toryu Kit for the IPMS Telford 2018 Show
Please email the following address by October 28, 2018 (Sunday) at 23:59 (JST) in order to reserve a kit.
* In order to prepare the reserved items, we cannot accept any reservations received after October 28, 2018
* Please pay for your kit at the venue (IPMS Telford 2018 Zoukei-Mura booth).
* Only cash payment (in GBP) can be accepted.
* Reserved kits must be picked up on November 10th (Sat) 2018 from 9:00 to 15:00 at the Zoukei-Mura booth.
* In case pickup is not possible in the above mentioned time, please let us know via email when you make your reservation or no later than the reservation deadline (Oct.28).
* Your reservation will be cancelled if you don't pick up your item before 15:00 on November 10th (Sat) 2018.
Mail us at the following address to reserve and pick up
the Toryu kit at IPMS Telford 2018:

Thank you for your reservations!
We have met our reservation limit, so we are no longer accepting reservations for the 1/32 Ki-45 Toryu kit for pickup at Telford.
There will also be a limited number of Ki-45 kits available for sale at the Zoukei-Mura booth.
We look forward to seeing you there!
Reservation Deadline: By October 28, 2018 (Sunday) at 23:59 (JST)
---
Come one and all!!
I personally will sharpen your blades at the IPMS Convention!
For all customers who own the "PRO-ZETSU Series Plastic Modeling Chisel" and/or "PRO-ZETSU Plastic Shaping Knife" from the Zoukei-Mura Old Man's Seven Tools Series:
If you bring the tools to the convention, I will sharpen the blades for you before your eyes.
Of course, the service is entirely free of charge. Ten minutes is more than enough time. By all means, please come by!!
(I'm sorry, but I don't have any experience sharpening non-Zoukei-Mura blades, so I will refrain from doing so.)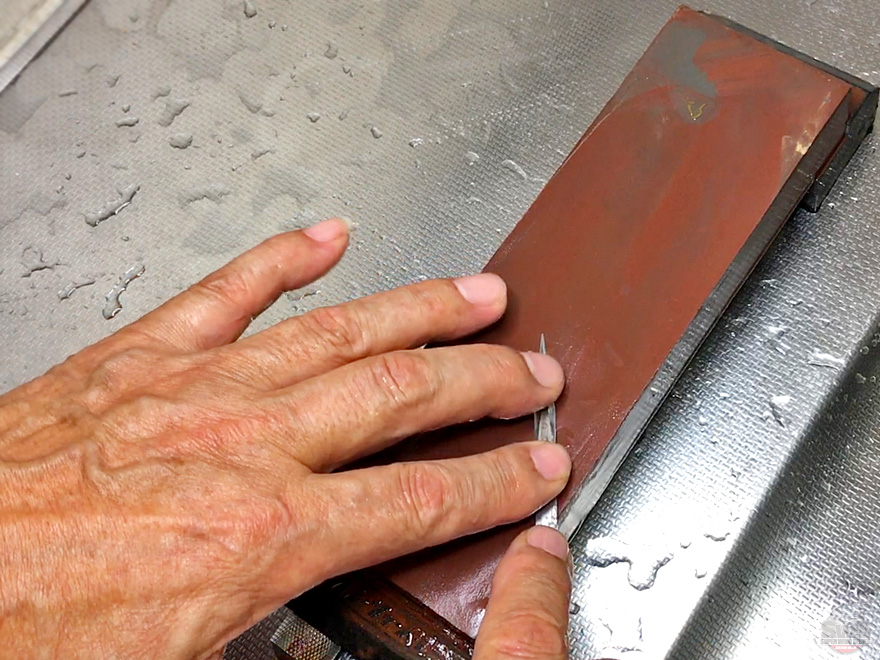 ---
The Final Mock-Up of the Henschel Hs 129 on Display!
The "tank killer" Henschel Hs 129, now in 1/32 scale size!!
At last we have gotten to this point in the development, after facing difficulty after difficulty.
As per our usual, this is a kit that model maniacs worldwide can appreciate! And now, you have the chance to directly see and touch that unbelievable craftsmanship!
Please ask me personally at the convention. I will hand you the mock-up kit to see and feel for yourself.
I am sure you will feel deeply moved by the truly unique engineering of the Hs 129, and its history of fiercely-fought battles. Be sure not to miss out!!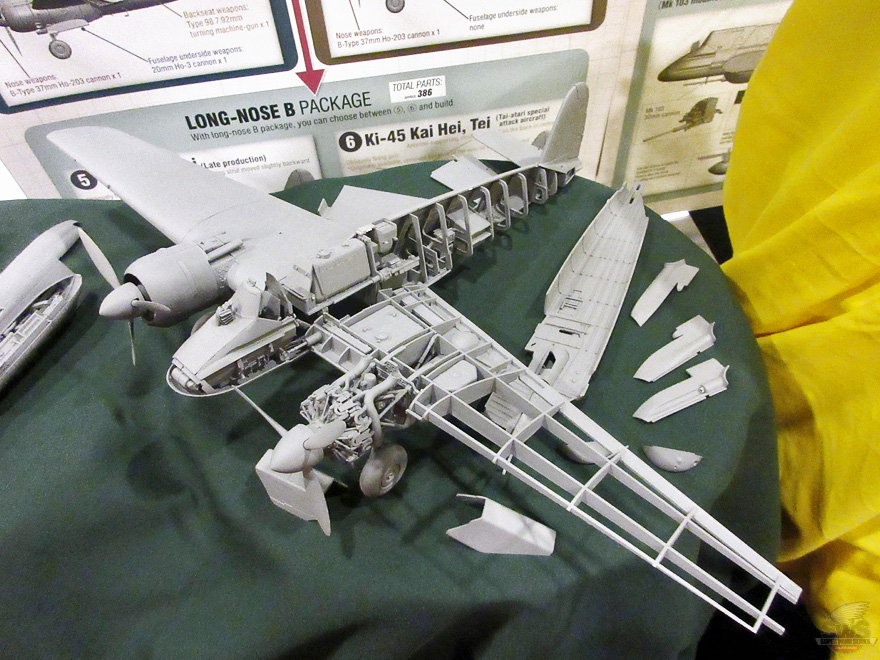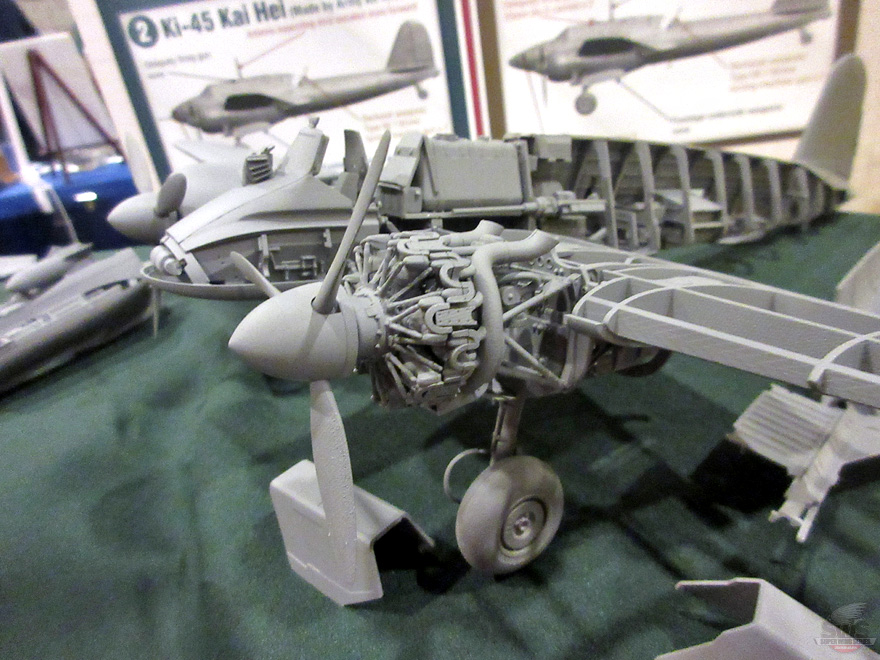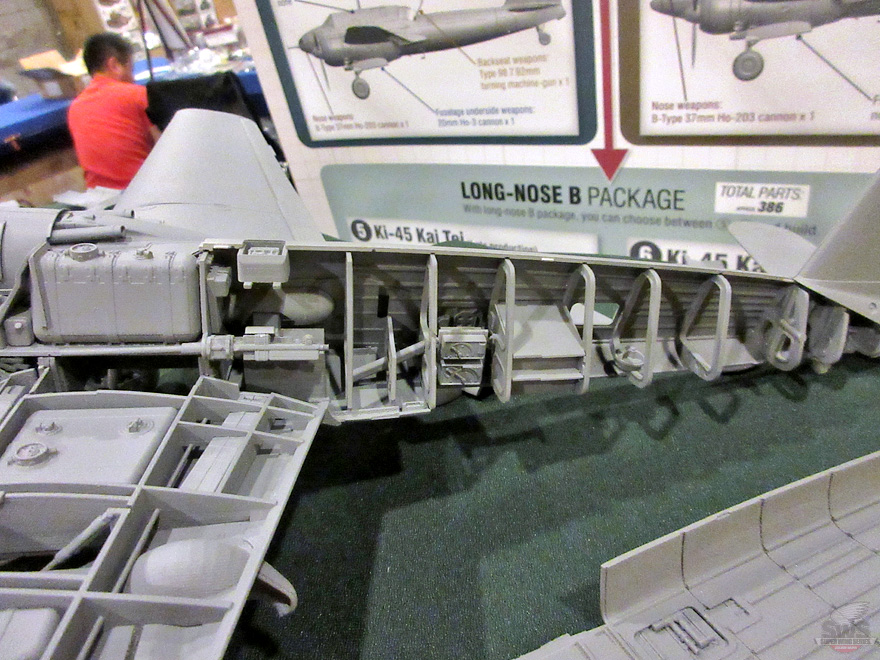 ---
The Development of Focke-Wulf Fw 190 has come this far!!
The development of the Fw 190, which has been fraught with hurdle after hurdle, has at last reached a turning point.
How should we bring you the SWS take on the famous "butcher bird"?! In search of the answer, we happily enjoyed an indescribable continuation of hardships.
But where there's a will, there's a way. Just like those wise words, we have begun to see a terrific form of the Fw 190, fit for an SWS kit.

It will still take time until its release, with the confirmation of details, negotiation and meetings with the mold manufacturers, and more. But it looks like we will be able to bring you a kit worthy of all that hard work.
The release will let one weight off my shoulders. To all of the worried Fw 190 fans, now it's just a matter of time and patience.

I'm doing my best to be patient, so please join me in that effort.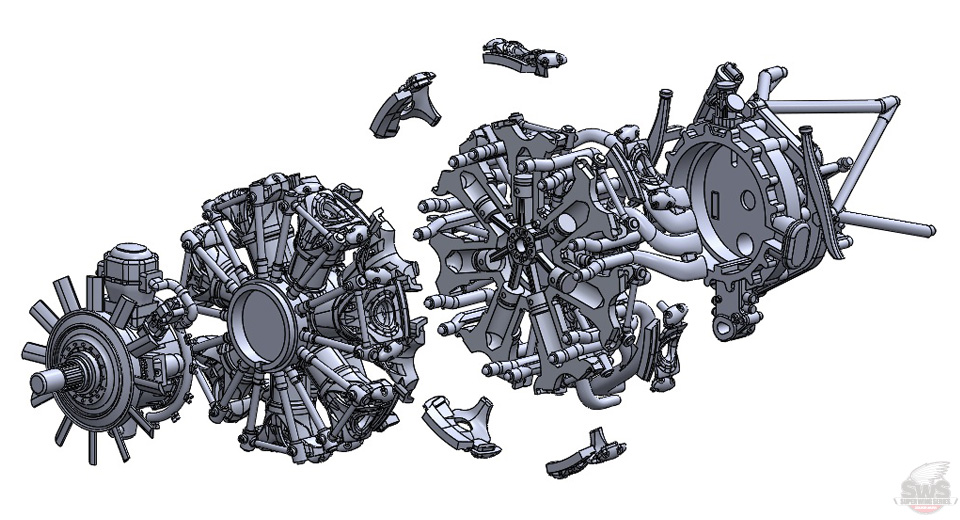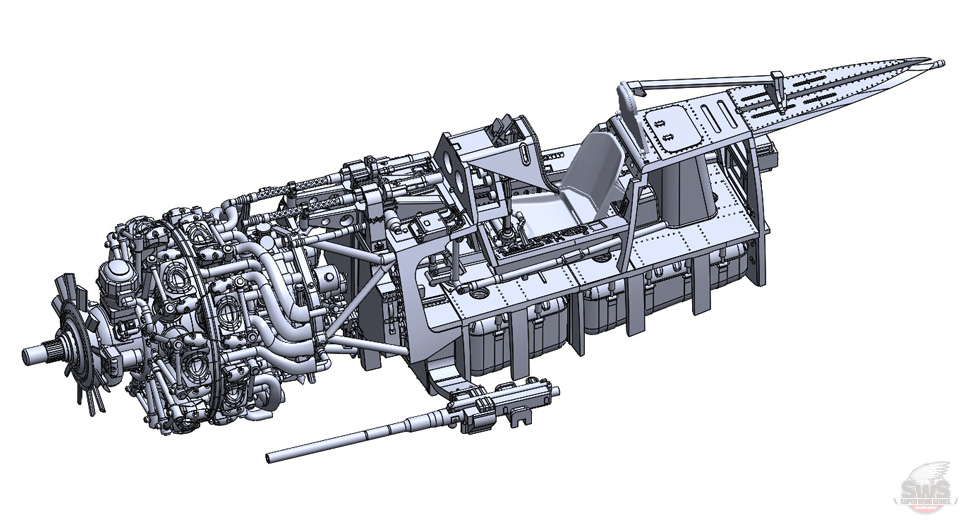 ---
The Highly-Anticipated 1/72 and 1/144 Horten Ho 229 Will Soon Be Released!!
The long-rumored SWS 1/72 Horten Ho 229 at last approaches its new release. I am sure that its incredible presence and craftsmanship will reserve it a place in your most treasured collection.

The fantastic moment when the 1/72 size takes its place on your shelf next to the 1/32 and 1/48 is soon approaching.
The release is expected to occur sometime between the end of the year to the beginning of the new year. In the worst case scenario, it may be delayed until April.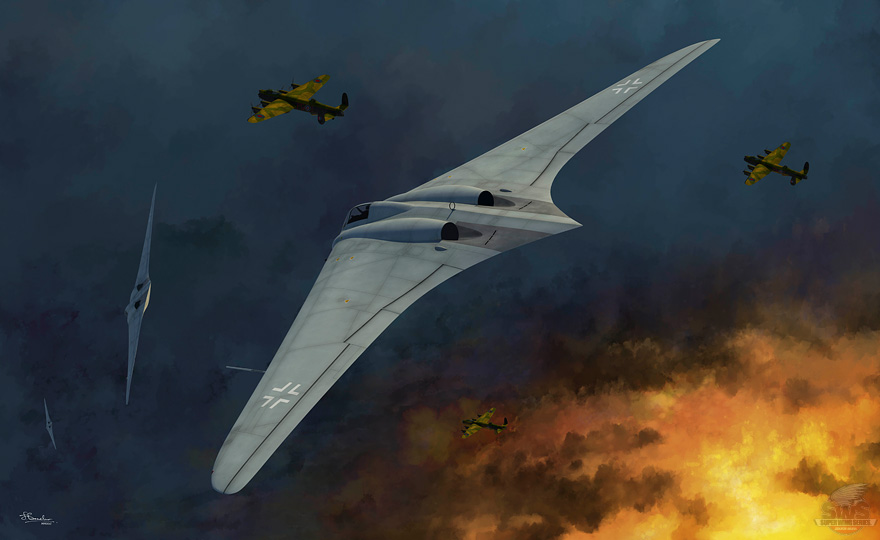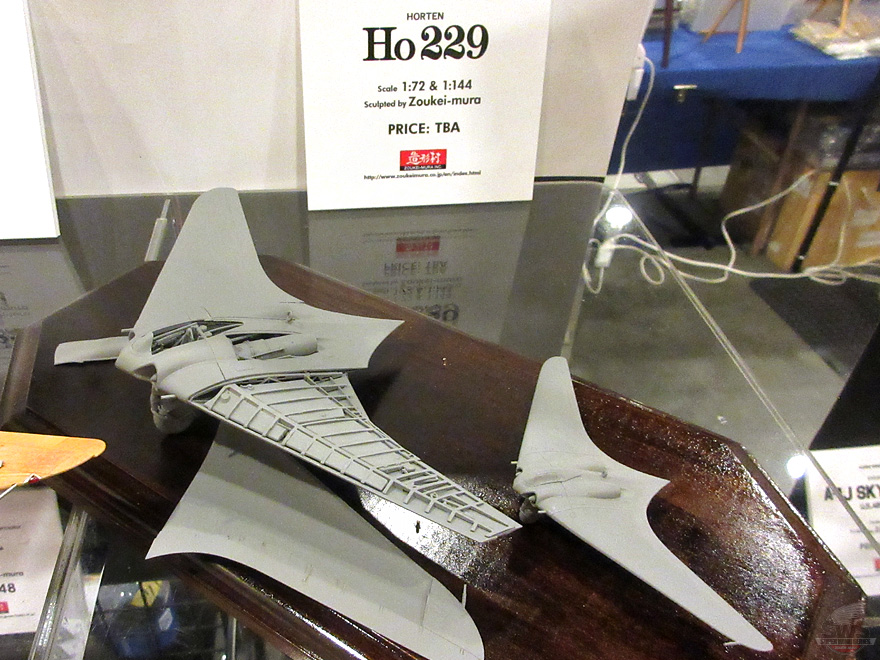 ---
Yes! Zoukei-Mura SWS Makes Your Dreams Come True!!
I will bring you the same sleepless nights I experience.
That's right!! Your dream is my dream.

QUIZ: Guess the next upcoming SWS kit!!

We're reproducing "those" airplanes in 1/32 scale- they are sure to surprise you!!
Guess the name of the airplanes from the following hints.
Three lucky winners with a correct answer will be sent one kit of that very airplane. If there is a surplus of correct answerers, winners will be chosen by lottery.
We will be accepting answers from all over the world at this email address:
Guess the Next SWS Airplane Quiz
Rules of Participation:
1.Answers must be sent by email. One answer per person, please. Those who send multiple answers will be disqualified, even if they send in the correct answer.
2.You must include in your email:
-Name, Age, Address and Country, Telephone Number, and your favorite type of scale modelling. Replies without all of this information will be disqualified. We will use your contact information for sending the winners their prize. We will not use the information for any other purpose or disclose it to any third party.
3.The deadline is November 11, 2018. Only emails received by that date will be qualified to win.
4.We will announce the winners after the deadline on this blog.
5.Please understand that it may take some extra time in the case of sending the prize overseas.
By the way, I would be happy if you include your thoughts on SWS kits as well in your email.
Guess the Next SWS Airplane Quiz
(Include the numbers with your answers.)
1.
Luftwaffe. Liquid-cooled single-seater fighter airplane.
Answer: (     )
2.
Luftwaffe. Twin-engine airplane.
Answer: (     )
3.
U.S. Air Force. Liquid-cooled single-seater fighter airplane.
Answer: (     )
Please fill in the parentheses above with the airplane names.
Three lucky winners will receive the kit of the airplane that they correctly answered as a prize once it is released. (You do not need to answer all of the airplane names correctly to be qualified to win.)
(If there is a surplus of correct answerers, winners will be chosen by lottery at random.)
Send your answers to the "Guess the Next SWS Airplane Quiz"
to the address below.

The deadline has now passed. Thank you for your responses!
Deadline: Answers must be received by November 11, 2018 23:59 (JST)
---
This concludes this Old Man's Blog, written during the rainy spell after the typhoon.
I hope that wherever you are living, no typhoons, earthquakes, eruptions, or landslides occur.

We will not lose to these natural disasters, and continue to make even more fantastic plastic models.

Please take care. Let's meet again here on this blog. Goodbye.
Hideyuki Shigeta
Representative of Zoukei-Mura, Inc.
---