A Fleet of Popular Past SWS Kits Incoming!
Five highly-requested kits will be restocked in celebration of the SWS 10th Anniversary!
Product Spec
SCALE

1/48 Scale

MODEL

Plastic Model Kit
(including 2-color molded parts, clear and grey)

PARTS

Total Parts: 385

Price

8250 JPY (tax included)

Base price (before tax/fees): 7500 JPY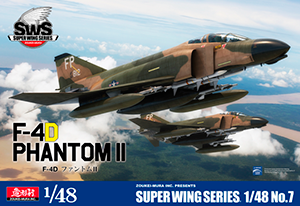 Order via Japan
(in Japanese Yen)

Restocked General Release Date: Nov. 13, 2021 (JST)
Order via Volks USA
(in US Dollars)

Pre-Order Period: Oct. 8, 2021 - Jan. 7, 2022 @10AM(PT)
---
Download the manual
1/48 F-4D Phantom Ⅱ
Instruction Manual
---
---
J,S,C,D a different reproduced each one with new tooling!
F-4 fans, pay attention to these 8 differences between D and C !
●INNER STRUCTURE

1. FCS changes from AN/APQ-100 to -109.
2. INS, from AN/ASN-48 to -63.
3. Bomb computer AN/ASQ-91 and AN/ASG-22 sight installed.

●EXTERIOR SHAPE

4. Some aircrafts have AN/ARN-92 LORAN-D antenna (aka "Towel Hanger") on the back, used in Vietnam.
5. Some others have RHAW antenna installed in every section.

●EQUIPMENT

6. Pave knife pods (AN/AVQ-10), operative laser target designator pods and laser guided bombs added.
7. All the ECM pods for AN/ALQ-87/-101/-119 mounted on.
8. Operable AIM-4D added.
---

SWS48-06
SWS48-05
SWS48-04
---
Zoukei-mura CONCEPT NOTE
Zoukei-mura CONCEPT NOTE
SWS No.Ⅸ F-4J/S Phantom Ⅱ
↑ Retarn to Top
SWS48-07 1/48 scale F-4D Phantom Ⅱ