Happy New Year 2017!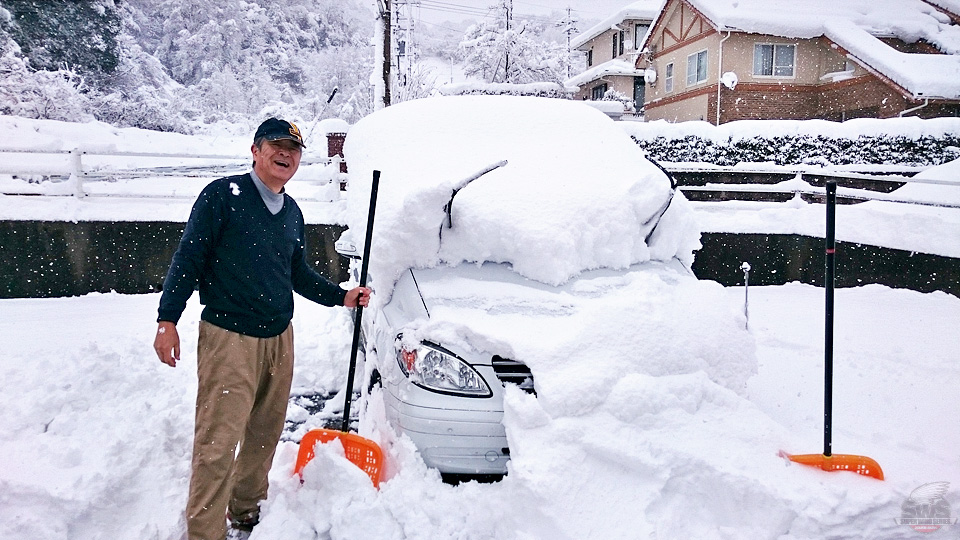 SWS fans around the world, how are you doing?
Happy New Year 2017!
Please enjoy our SWS kits this year too.
Kyoto, a 1,200 years old city is all in white, blanketed with snow!
Even in the coldest years, we have rarely seen 15cm of snow piled up in Kyoto city, so this time was a record-breaking snowfall.
In the suburbs of Kyoto where I live, 30cm of snow has fallen. And 50-60cm of snow was recorded on the parking of VOLKS factory, located far away in the mountains. Hence this year's first entry of the "Old Man Blog" comes from Kyoto, hit by the strongest cold wave of the year. (In the northern areas of the country and along the Japanese sea, more than 2m of snow has fallen too.)
So, how far did you go?
I mean, with your SWS 1/48 F-4J assembly.
Did you enjoy the prior taste, the current taste and the rear taste of the kit?
Don't tell me that the kit is still in its box, on the very top of your private kits' bunch of stock as a sacred symbol. Scale model world is a place where you enjoy by building the kit, and then admiring it.
In case your F-4 kit is still in your room on top of your stocked pile of kits, well it is time for the rescue team to climb that mountain.
There is no time to lose.
Then, empty your mind, open the box, take the vinyl off, refer to the instructions and "yeah!" Start your work holding your nippers in one hand.
Like our ancestors used to say, love makes blind and light-hearted, and only a strong-willed man can win.
Love moves fast! That is the same with plastic models.
Blind, light-hearted and strong-willed… And the goddess of victory will probably smile at you.
Regardless of the difficulty, totally absorbed, self-assured and reckless as hell!!
And you can trust it as I am telling you this after having finally created a modeling company.
The worst thing is, as usual, to stop here, smartly, while you had finally started moving on!
Foreseeing the ends of painting, building or searching for more documents in front of the box of your kit may seem normal but, as far as I understood, it is pretty useless.
If you do that (looking at the runners, reading the manual) you will end by crossing your arms.
Your heart will hesitate, you will start shaking your head, and eventually you end up thinking like "maybe I cannot complete this kit". The kind of delusion, similar to fear, will be scampering in your head.
And that's all you got…
It seemed to be the right time you finally start working on your F-4 kit and now it goes back on the top of your pile.
How does it sound? This year throw away that idea and build, build, build again!!
No matter what other people may think or say, "from now I'm going to build the SWS kits!!"; write it on a paper and hang it on the wall, fill the atmosphere during breakfast, lunch and dinner, bump into your beautiful wife (this is important), write in on placard and hold a demonstration in the city for your big achievement; somebody could actually do it.
It is hard to say but, dear world modelers, that pile of model kits has now become so high that, before everything, you need to hurry; that's something I cannot help.
Oops? Did the story turn aside?
Oh yes, I was talking about your SWS 1/48 F-4 J work.
My thoughts came out and I begged you to "build" your long-awaited F-4. Sorry.
Following the F-4J, the "S" type is scheduled for this summer.
Based on thorough research and verifications concerning the "J" and "S" types we made for the SWS kits, we are now proceeding with the final stage of development, putting all the enthusiasm to get the ultimate F-4S. Please look forward to it!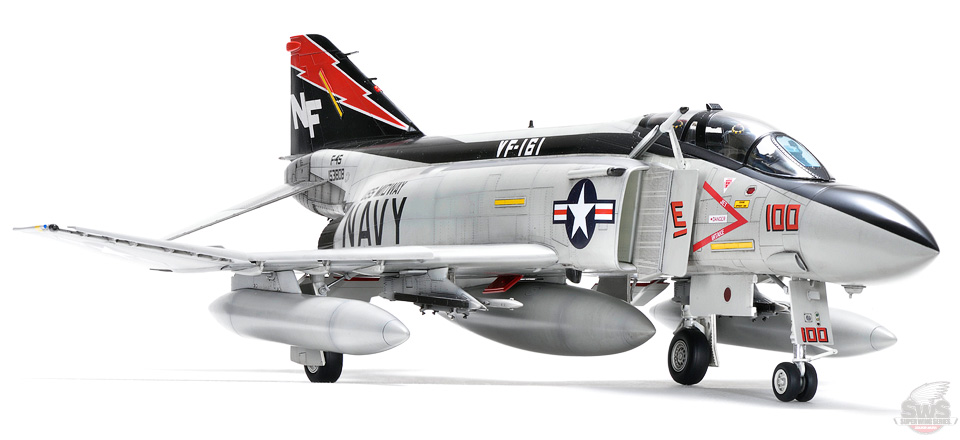 And as I promised on the previous entry:
The progress report of our 1/32 Fw 190!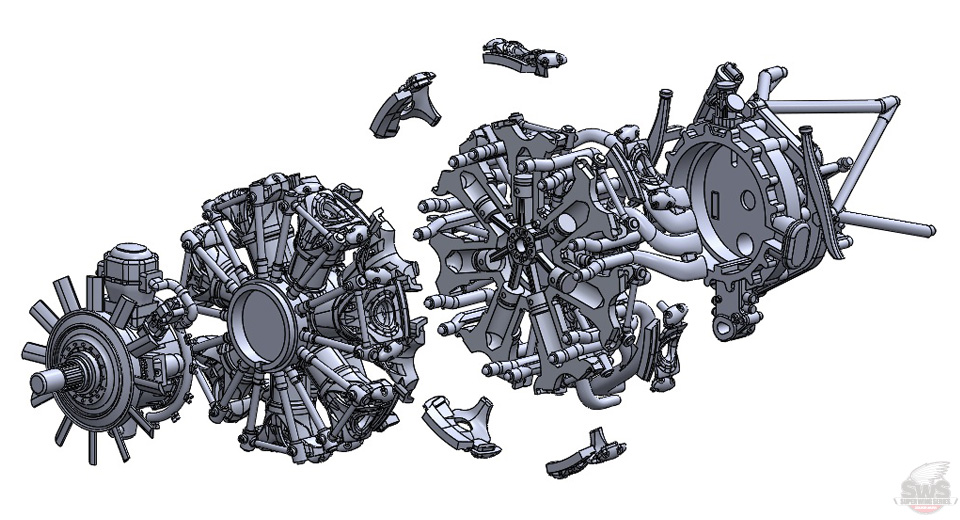 Fw 190 is the most famous and most representative Luftwaffe's aircraft of WWII!!
We want to reproduce it as the strongest and more beautiful 1/32 SWS kit than ever.
It has been already 2 years and a half since we started to work on that dream! Now I can finally show you a piece of the whole picture.
Anyway, there are countless Fw 190 fans all over the world.
And that is the reason why we will try to reproduce it as the best SWS kit ever. Inadvertently, simply, or slightly compromised, are not possible options.
On the contrary, if we do not create the best kit possible, I and the fans are not going to accept it and our clenched fists may fly somewhere.
The best Fw 190 ever! The development team is working on it every day for that! This work filled by fighting spirit is proceeding.
According to our SWS kit theory, this time I will show you the "internal structure" first.
Each part you see on this CAD screen, will be turned into plastic and complete scale model we are expecting… Please look at it.
And one more! Look!
This is the 1/32 Ho 229 two-seat model.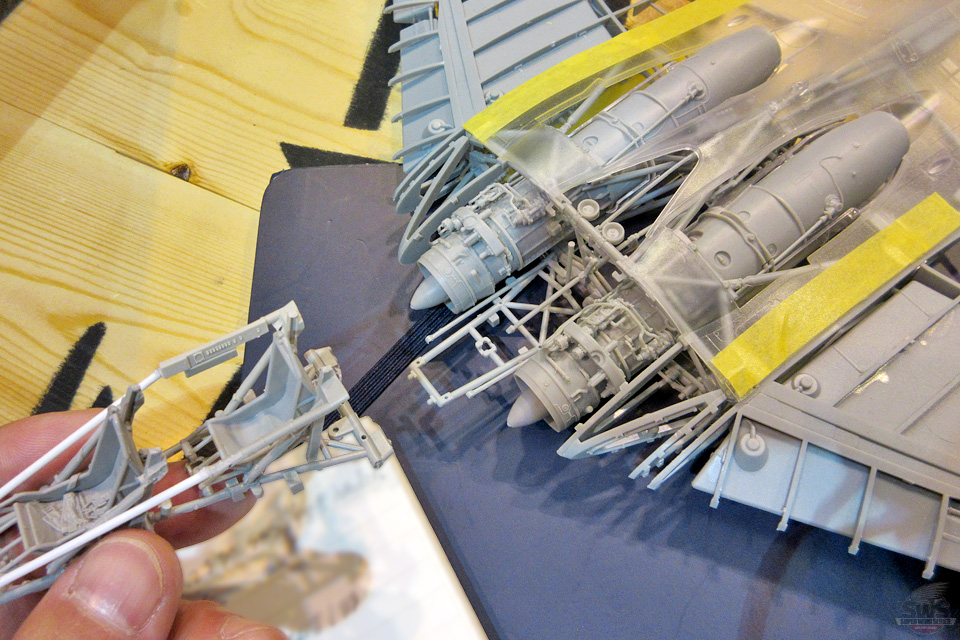 This is finally going to be part of your 1/32 kits' collection! What? You cannot wait for it!??
You are right. Actually, me too. I got so tired of waiting that my neck got longer. (It is what we say in Japan when you wait for too long: your neck gets longer).
"Ho 229 Two Seater Conversion Kit"
A high-valued "two seater conversion kit" will be added to the SWS Horten, this mysterious wing that keeps shaking the plastic model world of airplanes.
Its release is expected for this summer too. If everything goes well, we may have it available at the Zoukei-mura booth during the IPMS USA Nationals.
Look forward to the dynamic kit realizations that only SWS can give you!
*This conversion kit will be available as an extra part.
---
And golden days will continue for quite a while.
I will give you an insight the 1/32 Ki-45 "Toryu" and 1/32 Hs 129 developments in the next entry.
These two machines will also become something splendid.
Until then, put all your passion into this F-4J you have got now.
One more dream of yours will come true.
Take care of yourselves, dear SWS brothers.
Hideyuki Shigeta
President, Zoukei-Mura
---