We went to the IPMS Columbia!!
To all the SWS brothers around the world: how are you doing?!
This entry of the "Old Man Blog" is a report of our participation in the well-known "IPMS Nationals" held in Columbia, USA.
Whether you attended the show, or you could not attend it, please enjoy the fantastic atmosphere of these days by taking a look at this blog.
August 1st 2016, 5:00am (Japanese Time). Including me, five members of the Zoukei-mura Development Team gathered in front of the JAL counters at Itami Airport.
We will later land to the USA via Dallas Airport, but a long flight of about 15 hours to reach Columbia, our final destination is in front of us!
During our trip, two members from VOLKS USA have joined us at Dallas Airport. After a very long flight, all the members could finally reach Columbia safely.
We cleared the usually so-long customs inspections without any problem, and even our luggage arrived safe. Finally, everybody could get into a big SUV.
The last member to join the fight was John-san, from the American SWS Team, who came from Las Vegas. We met him again at the Zoukei-mura booth during the set-up day.
Even though I think the same every year when I visit a new place, this city of Columbia (South Carolina) is large and beautiful, isn't it?! And it's hot!! More than 36 degrees Celsius, which is almost the same temperature as in Japan. The difference with Japan is that thunderstorms with roaring thunder and rain falling in torrents were coming each night in Columbia.
"Hooo!! It's like in the movies!!!!" I was admiring the rain crashing on the window on my hotel's room.
As usual, let me start from the most wanted! The raffle held at our Zoukei-mura booth!!
Well, the venue of this IPMS was the huge, beautiful and splendid Columbia Metropolitan Convention Center.
The Zoukei-mura booth was located at the lower level of the Convention Center, which is built on a slope. It was a large, luminous and open space.
Also this IPMS Columbia was different from the past shows as we had a full day to set-up our booth before the event.
It is very helpful for us because we need to send all the items, display models, tools, shelves etc. used for our display from far away Japan, about 2 months earlier.
Even though we send our stuff after thorough preparations, when arriving at the Convention Center we always realize that we need something. In that case, America is very convenient. There is always a big Home Center like Home Depot near the hotel you stay. This time too, we went there for 2 hours in order to get raw materials for the booth.
Well, August 3rd 2016, 8:00am. Finally, today is the first day of the show.
Only few customers can be seen here and there.
After all the IPMS is a long, 4 days-event meant to be convenient for all the modelers coming from every part of the USA.
Every year, the first morning is spent walking around, saying hello to the other vendors. It has been 6 years already since our first participation to the IPMS Nationals, so we know a lot of people; better said, we have many good rivals!
Personally, I explore the Convention Center as a modeler too.
This time too I have brought back some unusual tools, parts, decals and kits, so I am happy to introduce them to you. Please enjoy!
Then, as one of the modelers, I started building the SWS 1/32 Do 335 test shot with my own tools I brought to the venue.
Mr. Naoki Kobayashi also started his demonstration at the same seat, so we sat down/stand up in turns.
Please consider my demonstration as a very unusual thing. Indeed, I think that this is an important work to do as a member of the SWS Development Team, but it is possible that no Presidents from other manufacturers hold nippers and files to build their own products.
Anyway, Mr. Kobayashi and me sold our modeling tools while continuing our building works.
And everything was done in Japanese! But since we were talking about tools, customers understood immediately by looking at the results and effects of the tools in front of them.
Thanks to you, the "Old Man's 7 Tools" were sold out fast! I am sorry for the inconvenience caused to a lot of customers who wanted these sold out items. I am really sorry!!
Among them, we received a lot of requests for one of my highly recommended item: the "Zoukei-mura V Tweezer (Bent)". While being sold out at the booth, after going back to Japan I was surprised to hear that in fact we still have some stocks for this item in our warehouse!!
The well-know Mr. Koyama, friend of a medicine tool manufacturer, hand-built a last masterpiece before he died: this V Tweezer (Bent).
Since it is a high quality hand-made item, its price is very expensive, but the tweezers are user-friendly if you use them all your life as a third hand.
Also, you can find them at VOLKS Hobby shops in Japan, and VOLKS USA. Please add them as a strong member of your tools box. I think that you will definitely be surprised by how good you will feel when using them.
| | |
| --- | --- |
| | |
And this time, the top seller at Zoukei-mura booth was our 1/32 Do 335.
Two kits completed by Mr. Naoki Kobayashi and my test build, a total of three kits have been brought to the venue for you guys. The outer line is beautiful albeit weird. Robust main wings and well-engineered inner structure reproduced. And, most of all, you can build it by your hands in the blink of an eye. These SWS kits, modern plastic models, were piled in front of my eyes and bought continuously by people, all with satisfaction painted on their faces.
Now, one question to you who are working on this kit. It's just like I say, right?
You got a pleasant sense of completeness and fulfillment I suppose. Thank you very much.
This is America. Other than German aircrafts, Skyraider and Mustang are also selling well, which prove that there are a lot of modelers here in the USA. Hey, the Japanese "Raiden" is not doing bad! Not a few people made me happy telling me they just come here to do shopping at Zoukei-mura booth.
Among them, more and more fans have completed the whole SWS kit collection, and we welcome more and more great old men who came and bought our kits!! I feel happiness and a sense of achievement running through my backbone.
First and second day have passed, and it is already the third day at the IPMS Columbia. Today we will finally hold the lottery where, as every year, few fans among the 300 people who had answered our questionnaire will receive some Zoukei-mura deluxe products! The lottery will be held at 3:00pm in the special area set in front of our booth!
From Concept Notes to the Zoukei-mura T shirts, until the 1/32 and 1/48 kits, my hand keeps extracting the name of the winners.
This year we almost finished distributing all the 300 questionnaires by the second day. Questionnaires filled with modelers' passion and wishes towards SWS. We will keep this information in high regard for the development of the next SWS kits. Dear guys who answered, thank you very much!!
Then the Contest Area!!
This year too loads of stunning, undeniable masterpieces were gathered in the IPMS Contest Area!! It had been worth flying here all the way from Japan just to see these models.
Me and the other Zoukei-mura members took time, as much as possible, and went to see the contest area again and again. Deep in my heart I envy the way American modelers enjoy making and gathering scale models.
Next to a model so precisely completed that you would like to scream without thinking, there is a model packed with humor that will naturally put a smile on the face. And next to it a giant model that I thought "how the heck did they bring it in?" As far as I could see with my eyes, the huge contest area is full of wonderful models.
And this is our upcoming kit 1/48 F-4J exposed at the venue in Columbia.
Maybe!!
I say maybe, we will be able to have this 1/48 F-4 J ready for the UK IPMS to be held in Telford in November!!
Now, in front of me there is the latest SWS kit, the F-4 J mock-up completed.
If everything goes well, we might probably, not surely, have some dozens ready for a limited pre-release at the venue.
Then we just have the last assembly check; canopy cleaning, decals and instruction manuals are headed fast to their completion.
Of course the kit to be pre-released in Telford will include the decals reproducing the marking used in Britain back in those days.
Dear F-4 fans living in Europe, keep an eye on the next entry of this blog.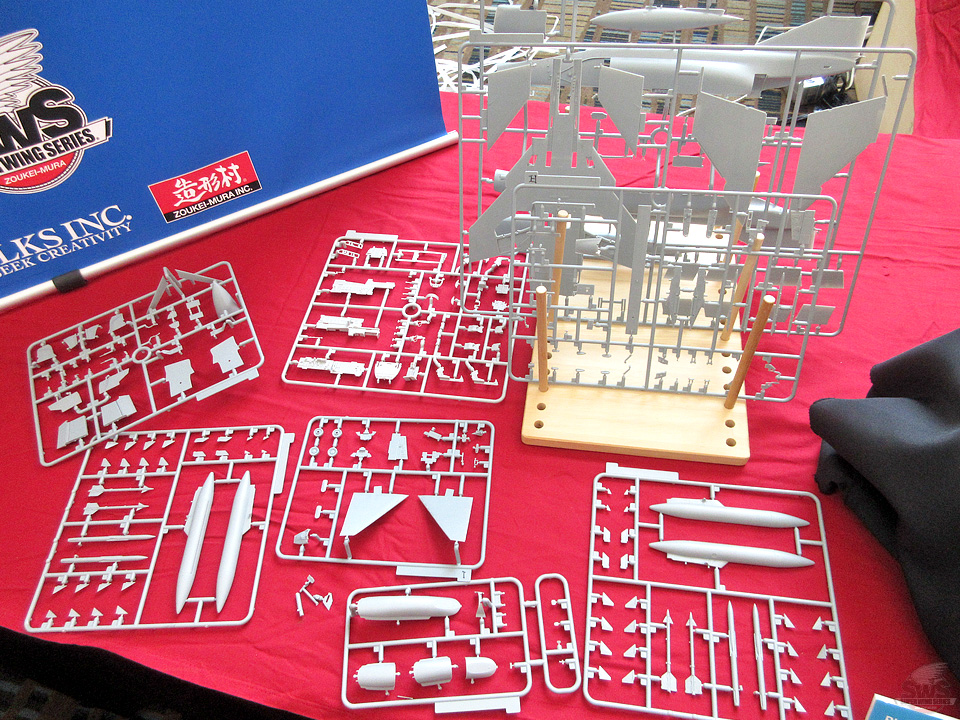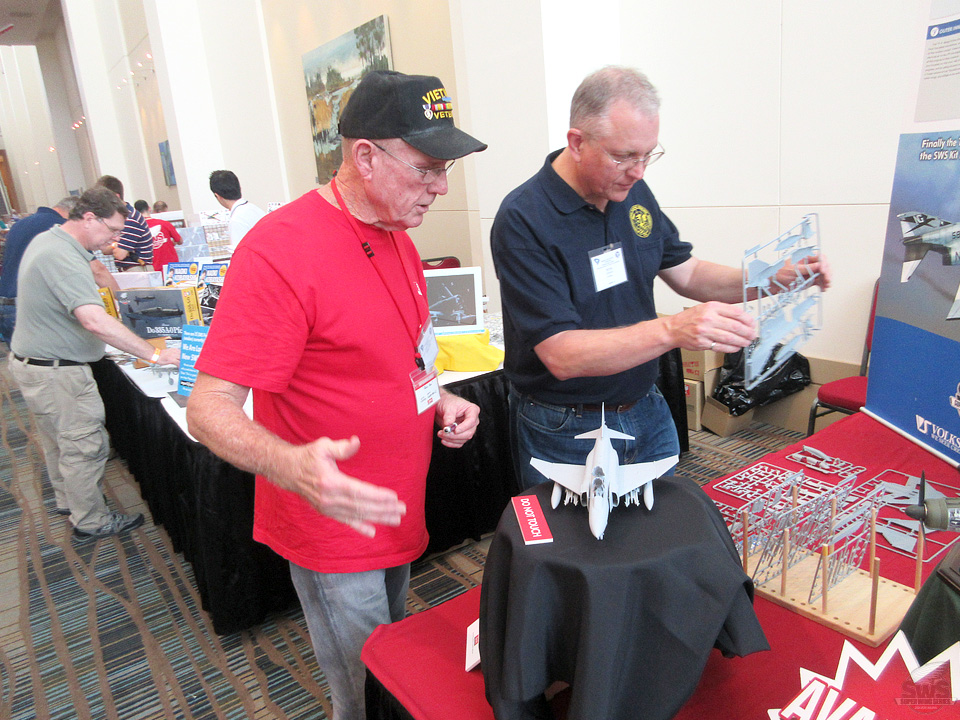 The SWS that drew most of the attention at Zoukei-mura booth was this 1/48 F-4 J mock-up!! This one that we brought still has some details to work on; every day we have been begged so many times by kit manufacturers, publisher, extra parts maker and the many, overexcited F-4 fans to bring the latest test shot of this F-4 J, which is still under development.
"Oooooh perfect!!" "Amazing!" "Magic!""
I kept hearing these cheerful voices, in spite of having just a mock-up exposed.
"Why starting with J type?" "What about S type?" "N type should come first." "G type?" "F-4 is just E type!!"
And so on, I was continuously stricken by this kind of questions all the time, which was quite exciting.
"Please relax. If J type sells good, we will move to B and C and D and E, we will make them all!!"
And that's it.
From now on for a while this blog will be centered on 1/48 SWS F-4 so get ready for it.
If you have been searching for the ultimate F-4 in 1/48 scale, you just need to wait a little longer.
In the next entry I might let you know the release schedule for the first SWS F-4 J.
And also how to be among the first in the world to get this F-4 J.
Dear fans of the F-4 J, don't miss next entry!!
Hideyuki Shigeta
President, Zoukei-Mura
---