Update: July 25th, 2019
A Big Hello to All of My SWS Brothers!!
Hello everyone! It's been a while. Have you been doing well?
Thank you for always reading this blog.
And above all, I do not have enough words to thank all of you who have been collecting and purchasing SWS kits. Thank you all so much!!
I'd like to introduce you to our three new upcoming releases: The 1/32 Ki-45 Kai Ko/Hei, the long-awaited 1/72&1/144 Ho229, and the 1/48 F-4J NAVY.
It's already been nine years now since the Super Wings Series began with the 1/32 Shinden kit, to become a series well-loved by aircraft modelers worldwide. Selling slowly but surely, at last some kits have begun to go out of stock.
By now it goes without saying, but as one of the smallest companies worldwide to be releasing plastic models, at Zoukei-Mura we do not have the space or the budget to keep an abundance of stock at the ready. We also do not have the ability to reproduce a kit just like that once it is sold out.
We have heard from customers who wait to purchase a kit, only to have the kit sell out while they are still thinking, "I'll buy it eventually… It's still in stock, after all…" They are then left still wanting to buy the kit, but now their only option is to buy from an auction website at an inflated price.
To avoid this predicament, I strongly recommend that you add these SWS kits, these miraculous aircraft models, to your collection while there is still stock on the shelves in our Volks stores and SWS Friend Shops.
And please look forward to information about the Zoukei-Mura booth at the IPMS USA Nationals held in Chattanooga, Tennessee, for four days starting on August 7th.
---
First in the World!! 1/32 Kawasaki Ki-45 Kai Tei Type 2 Two-Seat Fighter "Toryu"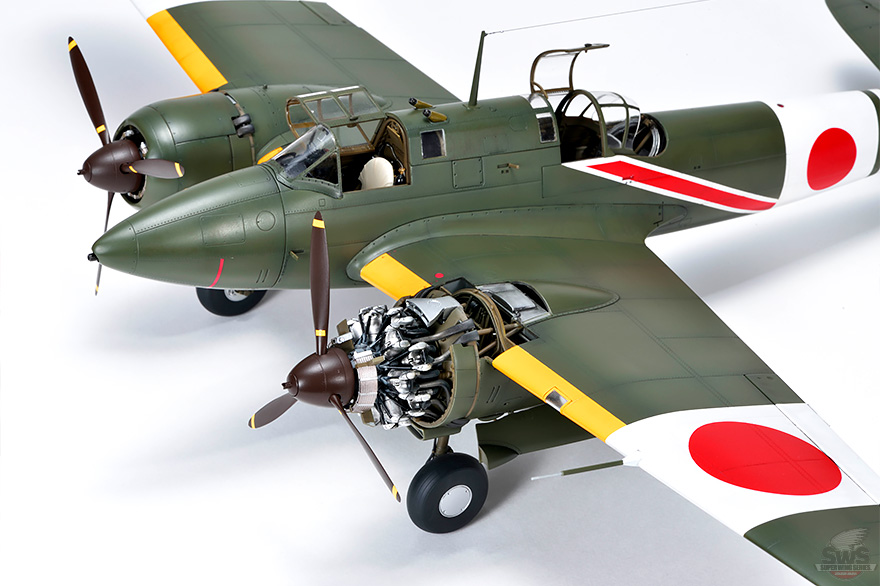 So, everyone, have you already finished your SWS 1/32 Ki-45 Tei, which flew into your arms earlier? Or, by any chance, is it still sitting atop its throne of your stock of countless kits, waiting first in line…?
No, there's no way that's the case, right?
Like a parent seeing off their beloved children, I am always so worried about their future.
The true value, the real joy of SWS kits comes from the experience of building them.
That is our firmly-held belief that we develop these kits with.
This is your very own collection, after all. We want you to enjoy the process of building the kit, discover what we strive to convey to you, and experience the ultimate joy of feeling as if you are building a real aircraft at your workbench.
And now for the second Toryu release: the 1/32 Ki-45 Kai Ko/Hei has landed!!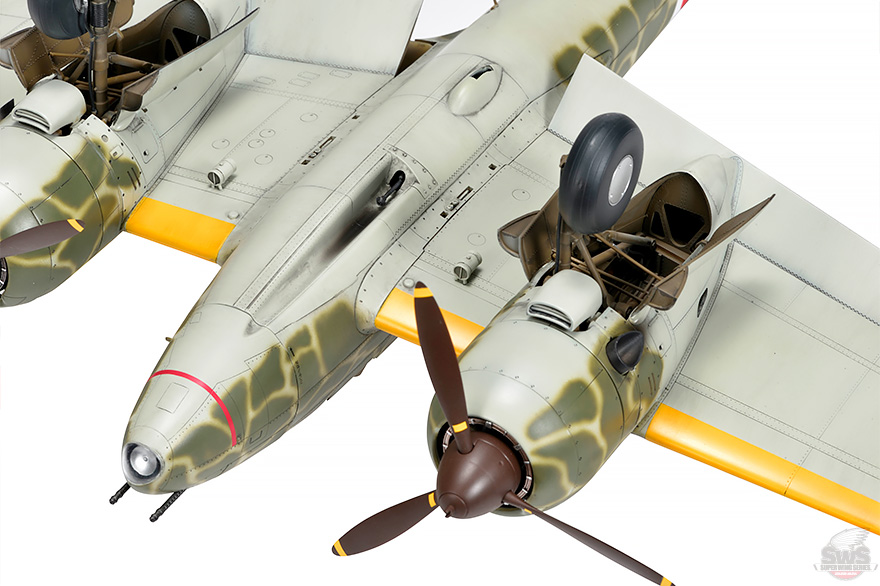 The Type 2 Two-Seat Fighter "Toryu" was actively involved in the war effort as a support fighter for the Imperial Japanese Army, covering a huge range of war zones from the Chinese front to Taiwan, Southern Philippines, Southeast Asia, Eastern New Guinea, even the Solomon Sea.
Now the gallant short-nose Ko/Hei version is available for the first time ever worldwide as a 1/32 scale model kit.
As always with SWS kits, each weapon variation and the different mounting methods thereof are based on thorough research in order to replicate the aircraft's engineering.
 The long-nose and short-nose versions may appear to be identical aircraft at first glance, but their details, from the engineering of the gunner seat in the back of the fuselage to the thorough reproduction of the gun mount, make them completely different. This level of incredible attention to detail that can only be found in SWS kits is sure to make your modeler spirit sing with joy.
(This kit has been created so that the parts fit nicely together, so please go ahead and use liquid glue to assemble. You will have a wonderful finished model with no unfortunate glue marks.)
Released in Japan on July 20, 2019, available at all SWS Friend Shops in Japan and domestic Volks stores.
And its international release will be at the Zoukei-Mura booth at the IPMS USA Nationals in Chattanooga, on Wednesday August 7th!!!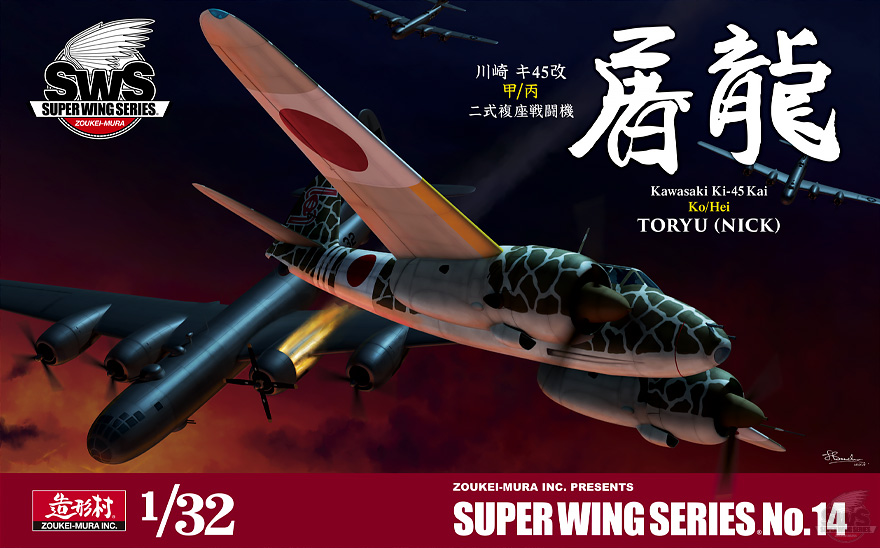 ▋SWS14 1/32 Kawasaki Ki-45 Kai Ko/Hei Type 2 Two-Seat Fighter "Toryu"

Plastic Model Kit (including 2-color molded parts, clear and gray), 517 parts
Price: 13,000 JPY (+fee)
Release in Japan: July 20, 2019 (Sat.)
---
The 1/48 F-4J NAVY SWS kit will also be released on July 20 in Japan, and on Aug. 7 at IPMS Nationals in Chattanooga!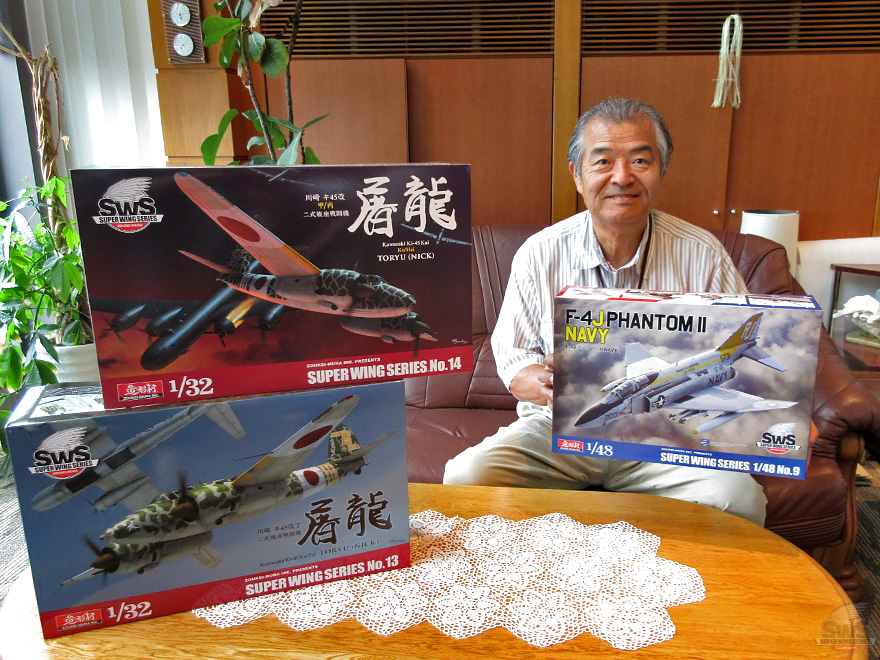 This just in for F-4 Phantom Phanatics!!
This kit features the long-awaited decals specifically for the final F-4J to be used by the legendary VF-142 Ghostriders. The powerfully jutting tip of the nose, the prominently protruding air intakes—that's the charm of this J version!!
This kit will become the very best addition to your F-4 collection!! Don't miss out!!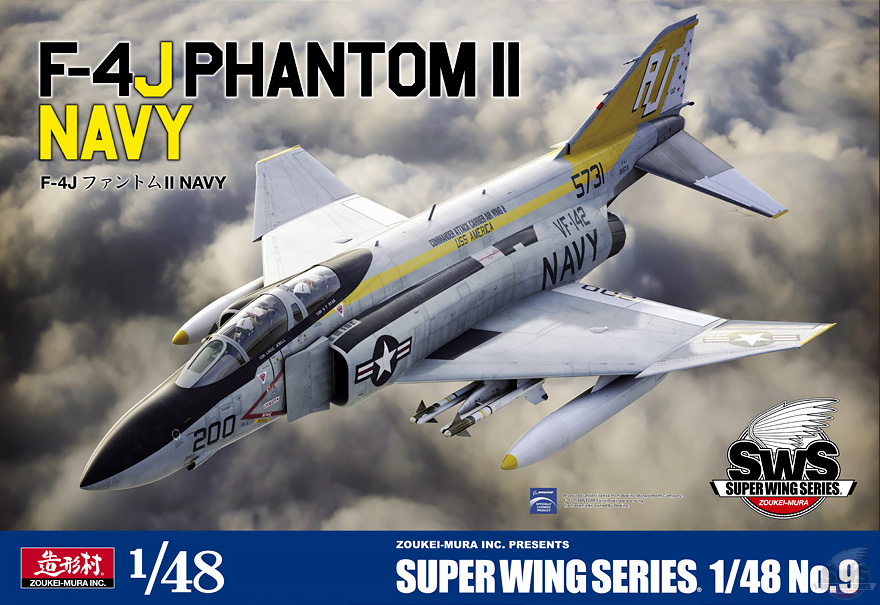 ▋SWS48-09 1/48 F-4J PhantomⅡ NAVY

Plastic Model Kit (including 2-color molded parts, clear and gray), 381 parts
Price: 7,500 JPY (+fee)
Release in Japan: July 20, 2019 (Sat.)
---
The 1/72 and 1/144 scale Ho 229 Hortens are in your hands at last!!
At last, the wait is over!! Finally the day has come when these two Hortens land into your hands!! As the first-ever 1/72 and 1/144 scale kit from Zoukei-Mura, the quality of the kit contents are sure to bring liveliness and a unique flair to your collection!
There's no mistaking it! Even if these Hortens are in the 1/72 and 1/144 scales, they are without a doubt carrying the pedigree of SWS kits. All of the details, including the engineering of the fuselage, the landing gear, the cockpit and weapons, are reproduced in the finest detail possible.
This new kit raises the bar so far, you will surely find yourself thinking in surprise,"Could this really be 1/72? 1/144??"
I can tell you're thinking, "There's no way I could possibly be so surprised!!" Yes, that's the spirit! Trust me, you will surely be enraptured with the satisfying building experience only found by SWS modelers.
If you once believed, "that's just impossible in a small scale," we want you to have a go at this masterpiece 1/72 & 1/144 Ho 229 Horten kit, finally available now!!
Just prepared to be surprised!!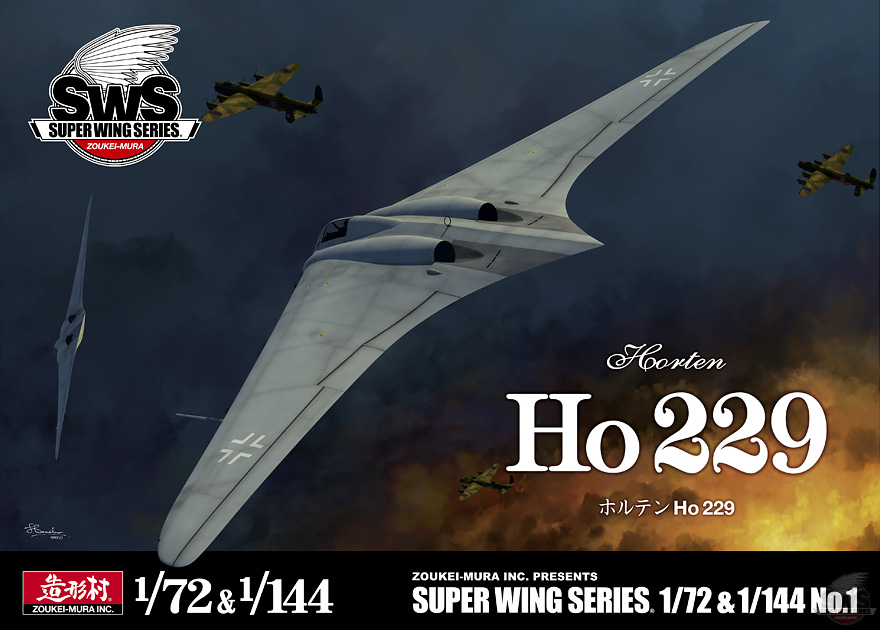 ▋SWS72 1/72 & 1/144 Ho229

Plastic Model Kit (including 2-color molded parts, clear and gray), 82 parts (1/72), 18 parts (1/144)
Price: 3,900 JPY (+fee)
Release in Japan: July 20, 2019 (Sat.)
---
Can't wait to see you at the Zoukei-Mura booth at IPMS USA Nationals in Chattanooga!!
Wha-! What's this now?? Somehow, little old me has been slotted to give a seminar speech at this year's IPMS USA Nationals!
I was given about 50 minutes to give a speech entitled "My SWS, Your SWS," starting at 2:15 on Friday, August 9th.
Hmmmm, what shall I talk about…
Everyone who comes to participate in the seminar will receive a little present from me as a little memento of the show: a special flashlight keychain with the Zoukei-Mura logo to light every little detail of your finished kits!
If you have this on hand, you're indestructible! It's a must-have for every modeler.
But don't you go shining it into people's eyes, now. I won't be taking responsibility for whatever may occur as a result. Seriously though, this light is really bright!!
Shine it at the wrong place and the wrong time and you're bound to end up causing some brawls.
And on top of that, for the ever-popular Zoukei-Mura Raffle, limited to this time only, along with the luxurious prizes I will be giving out hugs!!
You know, for typically shy Japanese people including yours truly, a "hug" is truly a rare and precious gift.
(For those mysterious folks who don't want hugs, just tell me "No" and I will certainly not force a hug, instead giving you my best smile and handshake instead.)
And not to be missed, the Zoukei-Mura booth at this year's IPMS USA Nationals will feature the following displays:
▋Four majestic 1/32 Toryu completed models of each version. Photography is welcome!
▋The full fleet of five 1/48 F-4 Phantoms: "J NAVY" at the lead, with "J MARINES," "S," "C," and "D"! We also plan to include a mockup model of the "F-4E Late Version" for the very first time- its world debut!! It may be a mockup model, but you are sure to be enticed by its beautiful form. Careful, now, no drooling allowed!
▋And there's more!
The latest 1/32 Hs129 B-3 test-shot AND the latest B-2 test shot will be shown for the first time, simultaneously!! Just try to hold back your shouts of surprise as you see for yourself the unbelievably fine workmanship!
That's not all! There will be completed 1/72 and 1/144 Ho 229 models on display, fine works by the famous Naoki Kobayashi! Maybe, just maybe, I can let you touch them without Mr. Kobayashi finding out. As soon as he heads to the restroom—quick, that's our chance!!
There will also be more works by the master Mr. Kobayashi:
Do 335 A-12, He 219, P-51D, Shinden, and even Ta 152—all waiting for your visit. You are welcome to photograph them as much as you like!! If I am at the booth, we can dare to secretly adjust the angle of the model for your perfect shot, or even have you hold it up close for further inspection. In that case, you must speak to me in Japanese for my cooperation. If you have no choice but to use English, there will be a cute female staff member named Anne to interpret for us so somehow we'll find a way to communicate.
I am so looking forward to seeing you at the Zoukei-Mura booth at IPMS Nationals in Chattanooga.
Even if it's you first time meeting me, feel free to call me "OYAJI" (Old Man) or "Brother" and I will be at your service… in Japanese, mind you.
If you buy an SWS kit at the event and would like us to sign it for you, please don't hesitate to ask. We will be happy to sign it, unabashedly in Japanese!!!
That's all for now! Be well everyone!! I'll see you there!!
Hideyuki Shigeta
President, Zoukei-Mura
---